The final game of Round Five saw a huge record tumble, as the Adelaide Crows piled on 15 goals, without letting the GWS Giants score one, for a 96 point win, (15.7.97 - 0.1.1).
Adelaide had eight goalscorers contribute to the historic result, including a four goal haul by one of this week's inclusions, McKenzie Dowrick.
For GWS, it was as disappointing as results get. Two weeks after scoring the club's highest ever AFLW score (65 points) in the derby against Sydney, GWS failed to register a major and now sit on the wrong side of an unwanted record.
Tasked with reflecting on such a loss immediately after the fact, Giants' coach Cameron Bernasconi started by saying, "it was extremely disappointing, we just didn't compete today.
"We'll go back to the drawing board during the week and look at our contest method, and we'll really challenge this group on 'we need to get better', because that just wasn't good enough today from the way that we performed," Bernasconi said.
One area that never fails to disappoint in the Crows and Giants match up - until this year - is the tough contest around the football.
On Sunday, it was a different story, as the Crows had 44 more contested possessions than their opposition, absolutely dominating the statistic and using it well from the contest as well.
Speaking of the win and the way the Crows went about it, coach Matthew Clarke was happiest with the contested possession count.
"In some ways, the result [was most pleasing], but clearly then the way we went about achieving that result.
"So, as I said, probably the contest numbers are the ones we're most happy with.
"Because, to be honest, we really rate GWS in that area, in particular. Every time we've played them historically, it's been really fierce around the ball, and we were coming expecting that, and I thought they did bring intensity, but I thought ours was just better."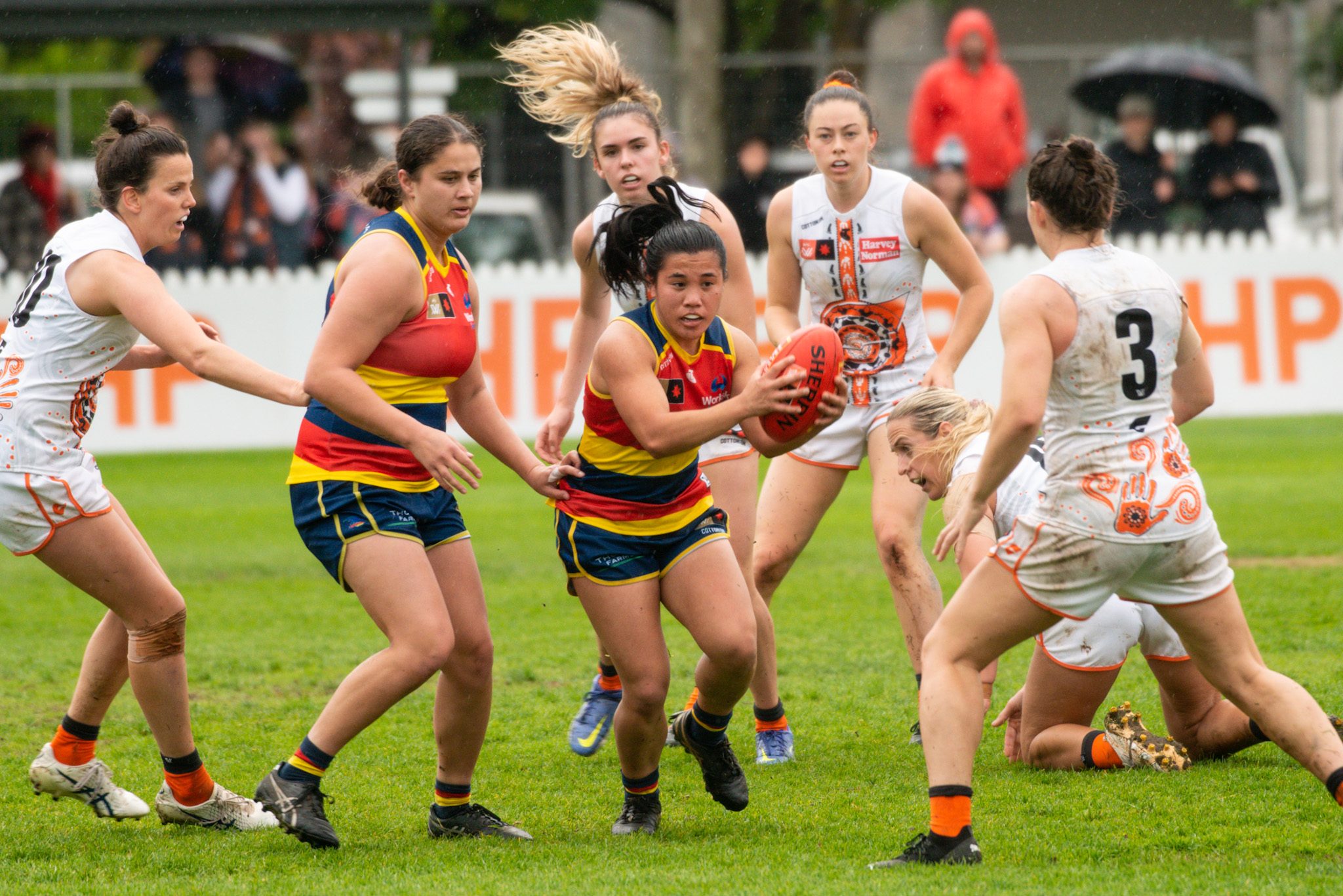 While Clarke thought there was some intensity from the Giants, Bernasconi admitted effort could be questioned when there is such a difference in contest numbers.
"I think you could certainly challenge effort.
"I think when you go negative 44 at contested ball, there is method to that.
"Hats off to the Crows they're a very good side and they're a very good contested ball side, but by losing contested ball by that much, I think there's absolutely some effort.
"And it's a young group, and we understand we have a young group this year, but they need to really compete harder and have the belief that this is where we need to get to."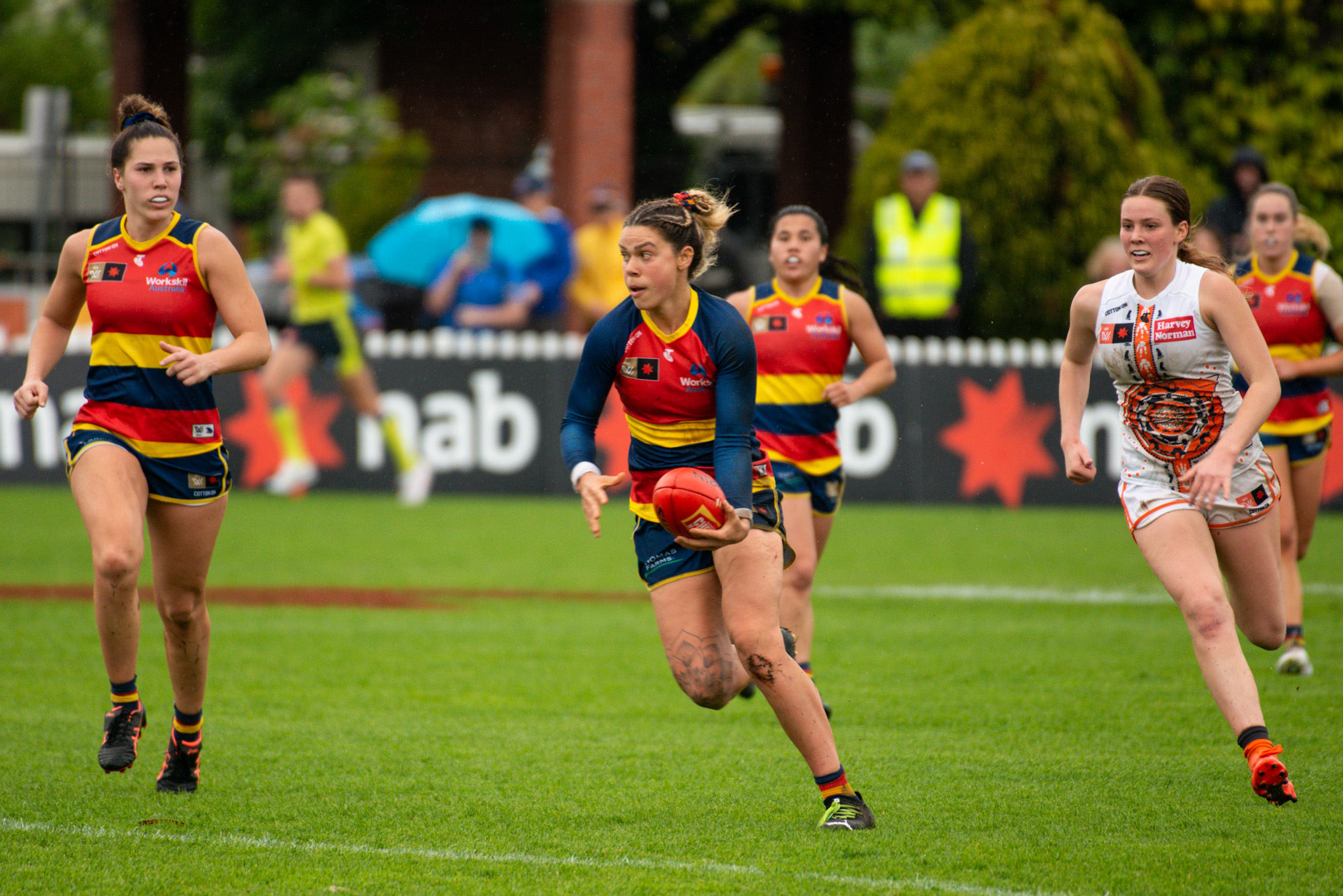 Leading the way for the Crows in the contest was the "consistent" duo of Ebony Marinoff and Anne Hatchard. Marinoff finished with 36 disposals (22 contested), seven clearances and a goal, while Hatchard collected 28 (17 contested), six clearances and three goals. Ash Woodland got on the end of three goals as well.
Captain Chelsea Randall's magnet continues to be shuffled around the board wherever she is needed, becoming quite a versatile option for Clarke to have at his disposal.
"She's pretty good player, so we're very fortunate to have access to someone who's obviously of her quality, but also her versatility," he said post-match.
"We were keen in the off-season to make sure that she continued to develop individually, as well as to help the team, and I think she's enjoying some of the roles that she's playing thus far."
On debut for the Crows today, Jess Waterhouse scored a sneaky goal to make the margin 96 points, but it was throughout the afternoon that she showed why she's an exciting prospect in the Crows' forward line.
Waterhouse was signed as a replacement player for Jasmyn Hewett, who was moved to the inactive list due to work opportunities. She was overlooked at the AFLW draft after switching from soccer five years ago, a sport in which she captained the Young Matildas and played three seasons with Adelaide United in the W-League.
Clarke was asked post-match what he thought of the forward's first game in a Crows jumper, and he "liked it".
"She's trained really hard and deserved her opportunity.
"And she's got some forward craft - probably the goal was nice and then the little soccer into the middle was a 'Jess' moment, which we see in training quite a bit.
"So, no really pleased for her," he said.
It was a milestone game for one Giant, with club stalwart Alicia Eva reaching 50 AFLW games. Eva had 18 disposals and fought hard as she always does, but unfortunately her team weren't up for the contest.
The result on its own was disheartening, but to put that performance up in Eva's 50th that the club had "put a bit of hype around" was even more disappointing, Bernasconi said after the match.
"She's an unbelievable warrior of this group, and we love her and what she's done for this footy club, so that really hurts after the game.
"And I think that's why there was a bit of emotion around at the end there, because we do feel like we've let Alicia down," he said.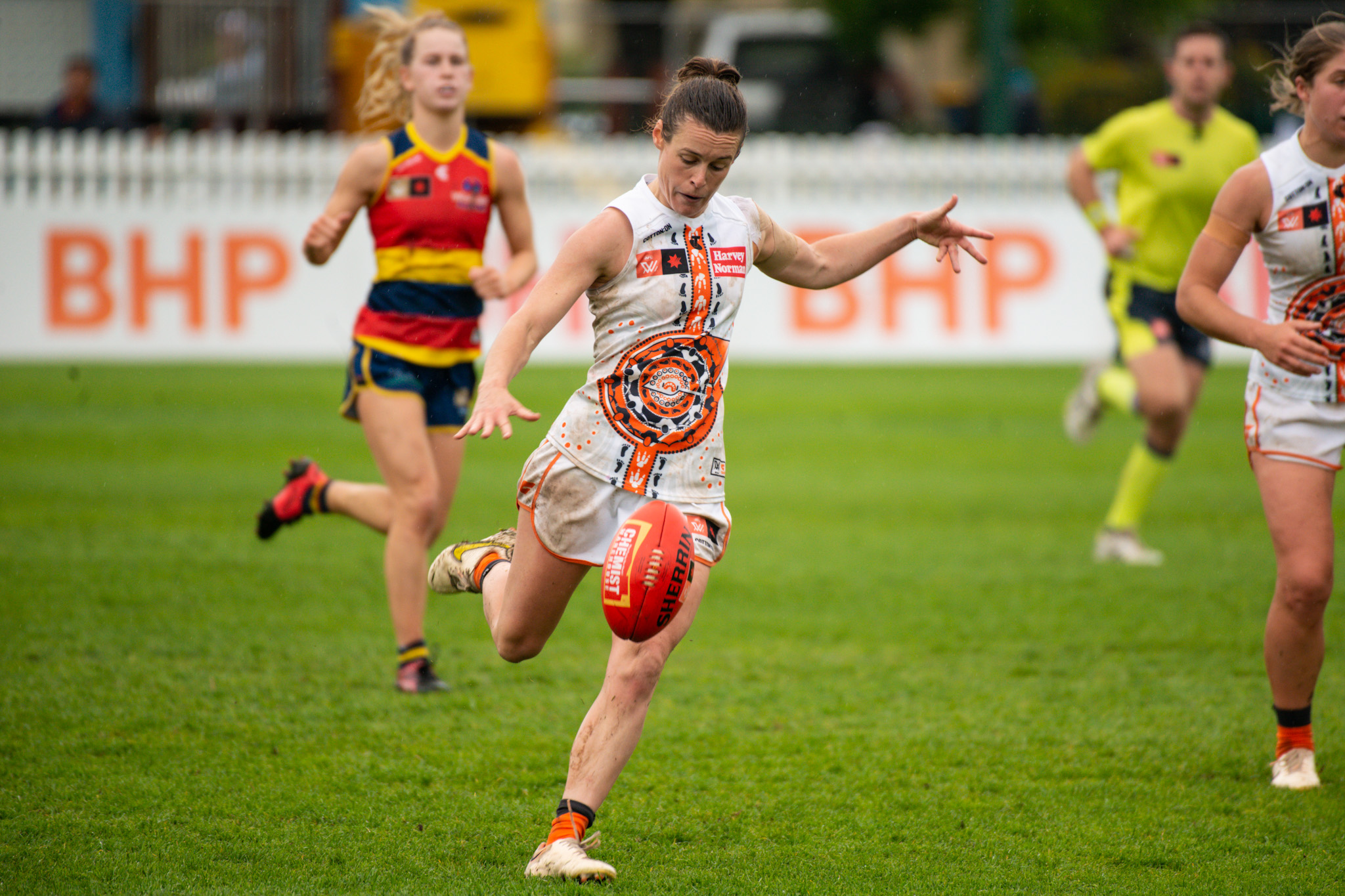 After a demoralising loss such as this one, it will be important for the Giants to pick themselves up and bounce back next week against the Carlton Blues. The Blues have been up and down this season, but will also be looking for an immediate bounce back off a 42 point loss to the Melbourne Demons.
Next up for the Crows is the first AFLW Showdown with Port, continuing a rivalry grown by the men's teams of these two proud South Australian clubs.
Clarke joked, "That's coming this week, is it?" when asked post-match about the upcoming game.
"It's going to be great. It's going to be a great occasion: Friday night, the start of the school holidays, so clearly it's well positioned and hopefully the South Australian community gets behind it.
"It's a great rivalry, the two clubs are really both proud, traditional clubs, and we'll be looking to put on a really good show and as will Port."