The Australian Commonwealth Games team is always expected to be at or near the top of the medal count, but there are plenty of athletes who have high individual hopes.
Among them, Bree Masters and Kaye Scott are among those Aussies who are shooting for the medals. Here are ten athletes looking to make an impact and take home a medal in Birmingham.
1. Ruby Roseman-Gannon
Ruby Roseman-Gannon has made an impression in her first year on the Women's World Tour on the BikeExchange Jayco, including lighting up the opening stages of the inaugural Tour de France Femmes.
Roseman-Gannon has shown great chemistry with her Aussie teammates, some of whom race with her on the World Tour circuit. Alex Manly has been a support rider for Roseman-Gannon as she attacked the Tour de France Femmes race, and the duo will look to light up the streets of Birmingham.
With a track background, Roseman-Gannon has the power to match the very best in the sprint. With so many big names of women's cycling not at the Commonwealth Games, it should present an excellent opportunity for the young Aussie to crack the medals.
Alongside her in the team will be Manly, Grace Brown, Sarah Roy and Brodie Chapman. The Aussies have a team for a fast finish, a breakaway, or hopefully any other situation. Roseman-Gannon will be key in most of those scenarios.
2. Cody Simpson
Cody Simpson needs no introduction, but he is an unfamiliar face in the Dolphins team. It is Simpson's first major international meet, with his biggest stage in the pool so far the Australian trials earlier this year.
While the lights definitely won't be too bright for Simpson, he is far from a favourite in the 50m and 100m butterfly. When he announced his return to the pool, he was clear that Paris 2024 was the focus, and making the Australian team for Birmingham 2022 was already exciting progress.
Simpson hopes to reach the final in the butterfly events as he continues his growth towards superstardom in his first love, the pool. He is expected to swim in the relay heats and could be in line for more medals as a result.
Alongside Simpson will be a star-studded Australian team, including partner Emma McKeon, endurance superstar Ariarne Titmus and breaststroke Zac Stubblety-Cook.
3. Eleanor Patterson
Coming off a World Championship gold medal, Patterson is in great form, equalling the Australian record at the World Championships. After leaving the sport for a few years, Patterson is back and jumping at her very best.
She's proven her ability at the highest level, with an Olympic final and now a World Championship gold medal in the last 12 months. She will be hoping to add a second Commonwealth Games gold medal to her souvenir from Glasgow 2014. With the form that she is in, Patterson will be every chance to repeat those heroics.
She won't be the only Australian in the women's high jump, as Nicola Olyslagers (nee McDermott) is also in fine form, with an Olympic silver medal of her own in the last year. The two Aussies will be among the favourites for the medals in Birmingham.
The athletics team is full of stars, with Stewart McSweyn, Ollie Hoare, Linden Hall, Jessical Hull and Georgia Griffith all primed in the middle distance events.
4. Tyson Bull
Tyson Bull has stepped up in the last couple of years and comes into the Commonwealth Games as the only Olympic finalist in the men's horizontal bar.
He will carry that experience into Birmingham and hope to transform his Olympic fifth place into a Commonwealth Games medal. Bull also competed on the parallel bars at Tokyo and will be looking to make a splash in the men's individual all-around at Birmingham.
Bull's signature is a Cassina-Kolman in connection on the High Bar, a difficult combination that sets him apart from most competitors. His degree of difficulty is high enough that as long as he executes, he should put himself in a position for a medal.
Bull is part of a strong artistic gymnastics contingent, where he is joined by Olympians Georgia Godwin and Emily Whitehead and several other gymnasts who will be hoping to medal across the team and individual events.
5. Lina Lei and Qian Yang
Lina Lei and Qian Yang are among the best para-table tennis players in the world. They are coming off a team silver medal at Tokyo 2020 and individual golds for Lina and Qian.
Lina is a six-time Paralympic gold medalist who was born in China, emigrated to Australia and will be making her Commonwealth Games debut. Qian's journey is similar to Lina's after being naturalised as an Australian after the 2016 Olympics.
The duo will come in as hot favourites for the gold medal after taking silver at the Paralympics, and the para-table tennis team as a whole will have high expectations after five medals as a group in Tokyo.
Also in the table tennis team are stalwarts of the Australian team like Jian Fang Lay (six appearances) and Danni Di Toro (Commonwealth Games debut, but a seven-time Paralympian), as the Australians will look to dominate the sport at Birmingham.
6. Sam Fricker
Sam Fricker is a well-known Australian diver who will look to make the final of the 10m platform event. Fricker has long been identified as a potential star in the discipline and competed at the Olympics in Tokyo in the event.
Still just 20, Fricker has grown over the past few seasons, ad so has his social media following. Fricker is one of the most viral members of the Australian Commonwealth Games team with his massive TikTok following.
Fricker will be joined in the 10m platform by Cassiel Rousseau, and the diving team as a whole is filled with veterans and Commonwealth Games like Anabelle Smith, Melissa Wu and Esther Qin.
7. Gronya Somerville
At 27, Gronya Somerville is at her third Commonwealth Games in badminton. Making her debut in Glasgow as a 19-year-old, Somerville grew over the course of the Games, but at Gold Coast, she made a splash as part of a doubles team that fell agonisingly short of a medal, losing in the bronze medal match.
Sporting green hair to match her uniform, Somerville will be looking to take her performance to the next level at the Commonwealth Games and take home that elusive medal. Without her Olympics doubles partner, Setyana Mapasa, it will be a challenge, but Somerville will be confident in her experience and her new partner, debutant Kaitlyn Ea.
Australia hasn't had a gold medal in badminton since 1994 but hopes to arrest that slide with Somerville and Ea in the doubles, where they have never claimed a gold medal. Australia has medalled in the event, with Tang He Tian and Kate Wilson-Smith taking home bronze in 2010.
8. Alex Winwood
Proud Noongar man Alex Winwood will be looking to build on his Olympic debut in the men's flyweight at the 2020 Games as he makes his Commonwealth Games debut.
Winwood fell to a split decision at Tokyo but is mentored by Andrew Moloney, Australia's only previous gold medalist in the weight division.
Winwood has turned pro and is on the fringes of representing Australia one last time at the Commonwealth Games, but he will be looking to make an impression that gives him a stage for future fights.
Winwood is part of a star-studded Boxing team that includes Commonwealth Games medalists Caitlin Parker and Kaye Scott, as well as Tina Rahimi, who will be looking to make an impact as Australia's first female Muslim boxer.
9. Mariafe Artacho del Solar and Taliqua Clancy
Artacho del Solar and Clancy are one of Australia's unique beach volleyball pairings. Artacho del Solar moved to Sydney from Lima, Peru as a child, and Clancy is a proud Wulli Wulli and Goreng Goreng woman. The duo have played together since 2017, and reached the Olympic final last year in Tokyo.
The pair already have a Commonwealth Games silver medal from the Gold Coast and were Australia's first beach medalists since Sydney 2000. Last time around, they didn't drop a set until the semi-final and only came unstuck to Canada.
Clancy and Artacho del Solar have shown that they can get to the very top of the Commonwealth Games and will be hoping to finally take it all the way and pick up that elusive gold medal.
10. Brandon Copeland
Brandon Copeland is one of the rising stars of Australian triathlon. The Gold Coast native has multiple top-ten finishes this season in sprint and relay triathlons and is ready to compete at the highest level in the green and gold.
Copeland's racing instincts will come to the fore - as he has shown across this season, he has no fear of making an aggressive move and trying to ratchet up the pressure on his rivals. It will come down to how well he hangs on when he does push the pace, and the other competitors respond.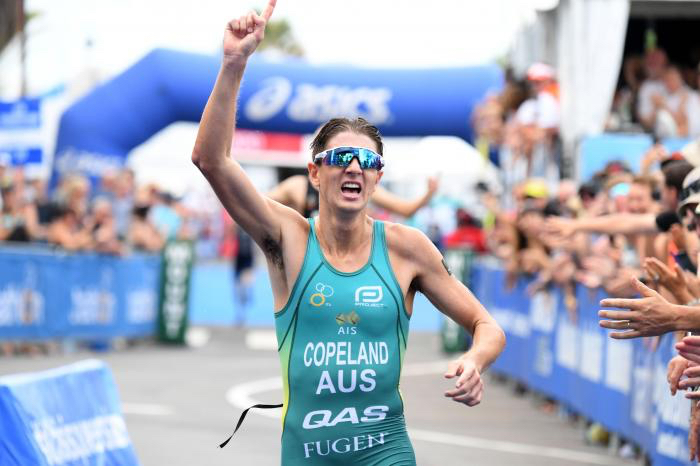 Copeland, along with Olympians Jack Birtwhistle, Matt Hauser and Aaron Royle, will be hoping to challenge for medals in the Men's Triathlon. Ash Gentle and Natalie von Coevorden headline the Women's Triathlon contingent.
Before you move on, why not give our Facebook page a like here. Or give our Twitter account a follow to keep up with our work here.