The wet weather that has plagued much of Australia's domestic track and field season continued at the last major event, the Brisbane Track Classic last weekend.
Despite the conditions, Australia's athletics stars still showed out, and had plenty of top performances. For some of those stars, it was a chance to show off freshly-won National Championship titles, while for others it was a chance at redemption, after failing to make an impact last week.
Peter Bol was one athlete who backed up his national championship performance with another glittering performance. Bol ran a quick first 790m of his 800m, before easing up and cruising over the line, and still coming in with a quick time of 1:46.12. Behind him, was Jeff Riseley, in the final competitive race of his decorated athletics career.
Bol spoke after the race about the decision to come out and run, despite having already secured a place to both Oregon for the World Championships and Birmingham for the Commonwealth Games.
"This is where it starts, you have to win races here to be able to go out there and win overseas. Brisbane is one of my favourite places and it's nice to be back in Australia racing again, in a month's time we are back overseas," Bol said.
"I didn't really worry about the conditions. Rain or not, wind or not, I came out here and treated it as a training session – that's when you run the best. Conditions weren't ideal but race-wise it was ideal."
Young star Torrie Lewis was another athlete who continued her glittering form. Lewis, who won multiple junior national championships in Sydney last week, raced in the Open Women's 100m, at the Brisbane Track Classic.
And she did not disappoint. In a fast field, including recently-crowned champion Bree Masters and Mia Gross to win the event with a time of 11.37, the third-best of her career.
Lewis wasn't satisfied with that, as she completed the sprint double by taking out the Women's 200m later in the day. The young Queenslander also spoke after the event.
"Something I have really been practising in training is getting my starts, with a better reaction time and more power - it looks like it's coming together," Lewis said.
"I definitely want to make the final in both events (in Colombia) and depending on how I am with my form, hopefully, be in medal contention."
Related Stories
PETER BOL: UNBELIEVA-BOL RESPONSE TO TWO LAPS
NICOLA MCDERMOTT JUMPS TO AUSTRALIAN TITLE, AND MORE
AUSTRALIAN ATHLETICS CHAMPIONSHIPS: TOKYO TALENT THRIVES
Mackenzie Little was another athlete who parlayed a strong National Championship performance into a Brisbane Track Classic win. Coming off an Olympic final at Tokyo, and a winning throw of 62.09 last week, Little raised the bar again.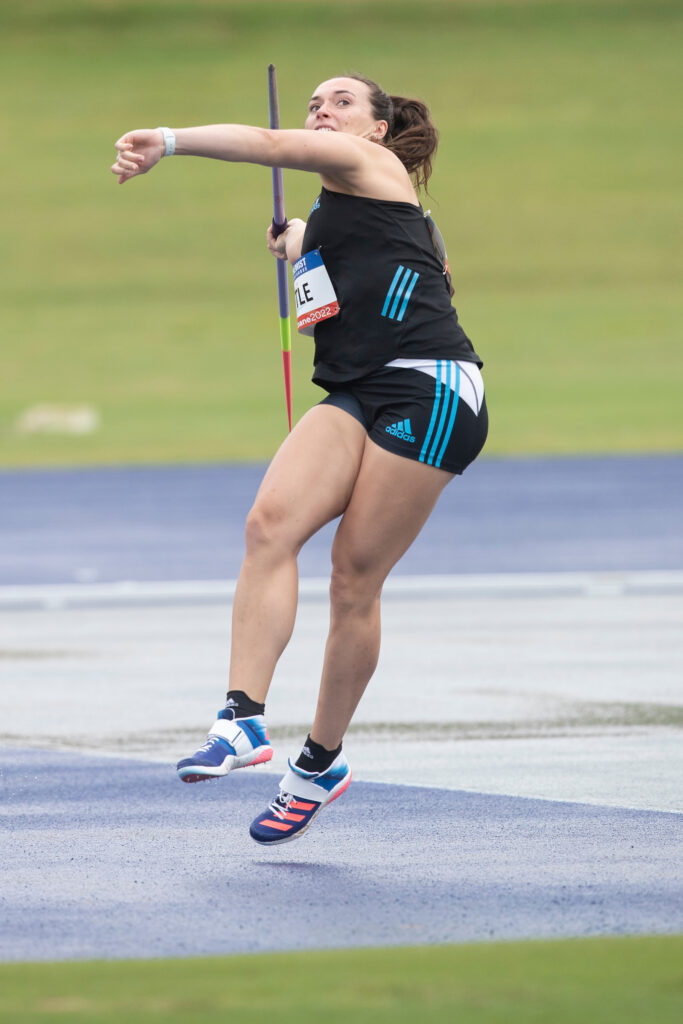 Mackenzie Little on her way to winning the Women's Javelin at the Brisbane Track Classic. Image: Athletics Australia / Steve Christo
She finished with a new personal best of 62.79, to win against a high-quality final that included Olympic medalist and reigning world champion Kelsey-Lee Barber.
While Little finishes the domestic season without an automatic qualifier for World Championships and Commonwealth Games, she is well placed on rankings and points to qualify with her form.
"I'm really excited with how I competed today despite the conditions. I want to be there at all the major finals and to be throwing like I did today, so I'm just excited that on any day I can come out and do my best," Little said.
Chris Mitrevski continued his strong season, with another meet where he finished over eight metres. Mitrevski won the Men's Long Jump at the Brisbane Track Classic with a best effort of 8.06, as he looks to add one centimetre to his personal best to hit the automatic qualifying mark.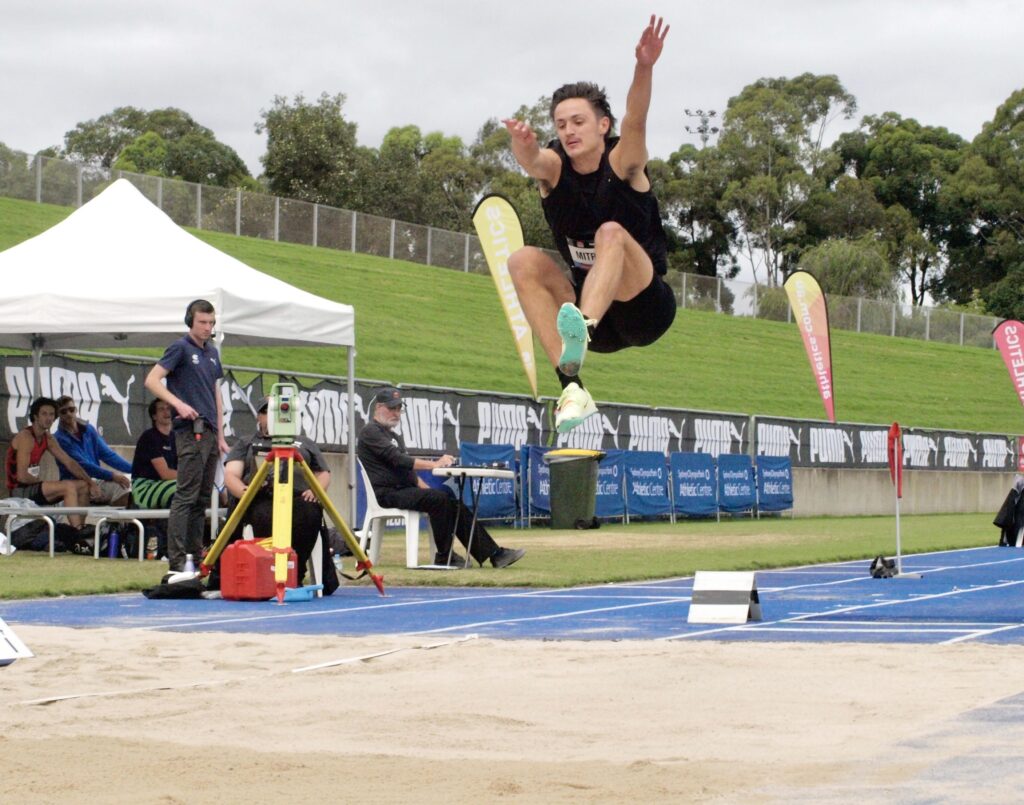 Chris Mitrevski won the National Championships a week before the Brisbane Track Classic. Image: Dan Coppel
Olympian Bendere Oboya rebounded after surprisingly being eliminated in the Women's 800m at the National Championships, to win the race in the Brisbane Track Classic in a time of 2:03.10.
For the sprinters, attention will now turn to the Stawell Gift this weekend, before athletes shift focus to the international season.